What's New!
Presidents Day
We will be closed on Monday, February 15, for Presidents Day. Orders received over the long weekend will be shipped on Tuesday.
Full-Featured Mini Lathes and Mini Mills at a Great Price!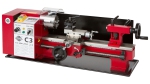 We are now offering SIEG Mini Lathes and SIEG Mini Mills. These machines offer all the features you expect from LittleMachineShop.com except for the HiTorque drive system. Our special arrangement with the factory allows us to offer these machines at very low prices. If you want to get started, but can't afford a HiTorque machine, these machines are the answer.
HiTorque Machines In Stock
We have these HiTorque machines in stock and ready for shipment.

With its 500W brushless DC drive system, the 5100 HiTorque 7x16 Mini Lathe has the most low speed torque of any mini lathe. And features like the 4" 3-jaw chuck, cam-lock tailstock, full half-nuts, and apron gear shield make this lathe unique.

The 5200 HiTorque 7x16 Deluxe Mini Lathe incorporates all the goodness of our 5100 mini lathe, plus it includes an all-steel wedge-style quick change tool post set with five tool holders. In addition, the 5200 features digital readouts on the cross slide and compound rest, and it has metal hand wheels instead of plastic.

The HiTorque 8.5x20 Bench Lathe features a power cross feed--a unique feature in lathes of this size. The 1000W brushless spindle drive motor provides tremendous low-end torque and continuously variable speed from 100-2000 RPM in both directions.

The Model 3990 HiTorque Mini Mill features an R8 spindle for wide tooling compatibility and a solid column for increased rigidity and reduced chatter. This mini mill has a larger X-Y table and more power (500W brushless DC drive) than its competitors.
Each of these machines is the best in its class, with unique features not available elsewhere. There is finally a Mini Lathe and Mini Mill worthy of the LittleMachineShop.com brand.
Tormach Personal CNC Milling Machines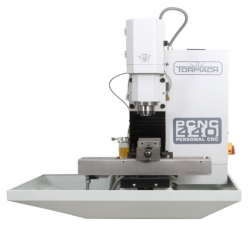 Tormach's PCNC mills represent a new approach to small and bench top CNC milling machines. Designed for real work, the machines have the strength, power, and accuracy needed to cut serious materials. We carry a full line of Tormach products, including the latest milling machine, the PCNC 440, as well as the larger PCNC 770 and PCNC 1100 Series 3 milling machines. We have a PCNC 440 and a PCNC 1100 in our showroom for demonstrations. Give us a call and make an appointment to see them in action.