DVD: 7x10 Variable Speed Mini Lathe Operations CLOSEOUT 2007
(Discontinued)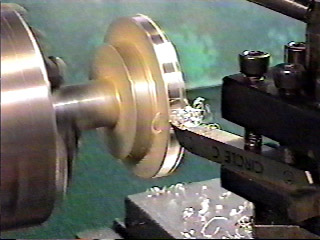 Part Number: 2007
(Discontinued)
Weight: 0.15 lb
Price: $43.00

This DVD video, by Jose Rodriguez, provides a four hour introduction to the use of the mini lathe.
The DVD has a menu that makes it easy to return to parts of the video that you want to see again.
Jose says: "This one has been a hot topic in recent months on the Net, the various metalworking newsgroups and mailing lists. Now all of your questions, doubts and anything else you may have been wandering about this tool will be answered in a four hour, no holds barred video presentation. The tape will begin with a full tour of the tool, followed by a complete machining presentation that should put to rest any fears or reservations you may have had about this tool once and for all!!! Not only will you be shown just about every basic machining cut a lathe is able to do, you will also see a complete "milling on the lathe " demonstration adapting the Taig vertical milling slide to the mini lathe's cross slide. An extremely informative presentation that will also double as a perfect machining mini-course."