Jog & Shuttle Controller, Tormach 4118
(Discontinued)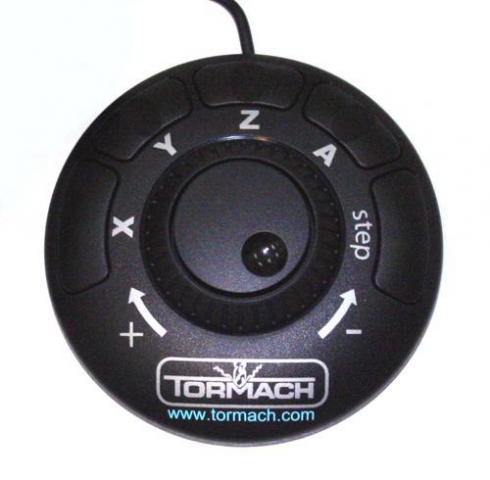 Part Number: 4118
(Discontinued)
Weight: 1.00 lb
Price: $99.95


The Jog/Shuttle controller is a self contained unit that can be used hand-held or mounted in a convenient surface of the mill. It has three sets of controls:
- A spring loaded ring
- A central jog wheel
- Five buttons
Manual machining is a breeze with full velocity and position control on all 4 axis (X, Y, Z, and A rotary). Far superior to a standard CNC positioning wheel, this USB connected electronic hand wheel has two concentric wheels controlling both position and velocity. The inner wheel operates as a standard CNC jog wheel and allows precise position control of any axis. Each click on the inner wheel will move an axis a specific distance. You can select 0.0001", 0.0010", 0.0100", or define your own increment sizes like 1/16, 1/32, or 1/64. The outer wheel is spring loaded to center and can be used to control velocity of any axis, anything from a very slow crawl to full rapids. This combination of velocity and position in one control is very handy.
This product only works with Tormach machines because the software is already installed.