DVD: Building an Overcrank Steam Engine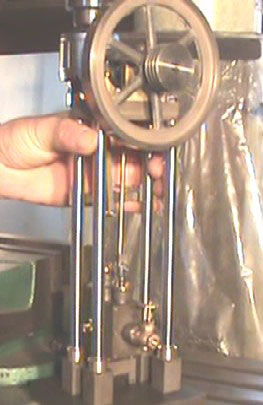 Build an overcrank steam engine
Video instructions and complete plans on the DVD
By Ron Takayama
The engine is made mainly from cast iron, the only casting is the flywheel. The bore is 5/8", the throw is 1,5", the flywheel is 4.5" in diameter and, it stands approximately 12" tall.
The majority of the parts are made of cast iron and although a lot of dust is created it's a wonderful material to work with. For those of you without a DRO, included is a scale paper diagram of the parts that requires bolt hole circles to use as templates.
Chapters include: Intro, Cylinder, Piston Ring, Top End Cap, Steam Chest Platform, Drilling Steam Holes, Soldering Cylinder, Pedestal, Packing Gland, Valve, Column, Fork, Upper Table, Crank Support, Crank, Piston Rod Guide, Eccentric, Eccentric Strap, Clevis, Compressor, Flywheel, Alignment, Timing, Running On Air, Running On Steam.
Compatibility
This product works with these LittleMachineShop.com products: