Automatic Tool Changer, PCNC 1100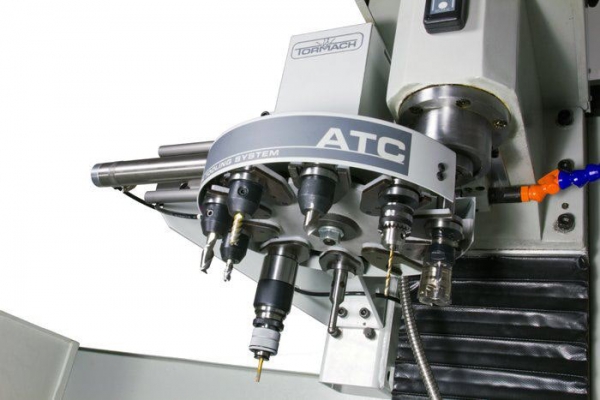 10 position Tool Tray
Slide activation via double acting pneumatic cylinder with cushion
Integrated touch-off routine (requires electronic tool setter)
Requires power drawbar.
The Tormach Tooling System ATC is a 10 tool carousel-style automatic TTS tool changer for the PCNC 1100 Mill. The side mounted changer integrates with our existing power draw bar system to automatically change tools via controller command.
The Tomach automatic carousel tool changer's design features a retractable carousel cover for chip protection, and automated air-blast to clear chips from the tool shank. The carousel slides into position with a double-acting air cushioned pneumatic cylinder.
Exchangeable virtual tool trays mean that tooling can be changed en mass by a simple tray swap, allowing a different tray to be dedicated to each job.
Tool pockets can be independently assigned to any tool number, so there's no need to change existing programs so they match tool tray pockets numbers.
The control software integrates with Mach3, and includes a graphical screenset for quick identification of tool location in the carousel. A built-in integrated tool touch-off routine allows automated tool setting of the entire carousel with a single button (requires optional electronic tool setter). When needed, the ATC can be easily bypassed or used in conjunction with manual tool changes if more than 10 tools are needed for a job.
Carousel position feedback ensures the Tormach automatic tool changer is in the correct position prior to a tool change.
Control software interlocks detect and warn against potential collision scenarios and a low-air pressure warning protects against ATC actuation prior to reaching proper holding pressure.
| | |
| --- | --- |
| | Tool Changer Mounted |
| | Tool Changer Close Up |
Compatibility
This product works with these LittleMachineShop.com products:
This item ships directly from our supplier in Wisconsin to you. It might be a day or two longer before it ships, and you will receive it in a separate package from other items on your order. You might receive this item a few days before or a few days after you receive items shipped from our warehouse.