Tooling Package, Drill Press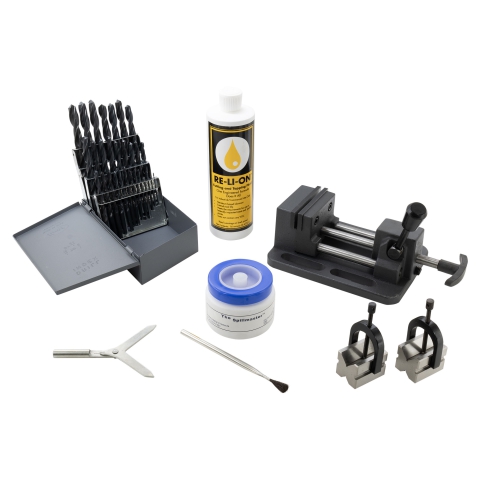 3" Drill press quick slide vise
29-Piece jobber length HSS drill set
Center It V-block
Re-Li-On cutting fluid and SpillMaster container
Drill press center finder
With this quick-slide vise for your drill press, you slide the jaws against your workpiece and lock it into place with the lever for a secure hold. The 1/2-inch slot allows the vise to be mounted to nearly any machine table using common T-slot bolts. Made of high-grade stress-relieved iron casting.
Includes a 29 Piece high speed steel drill set that includes drills from 1/16" to 1/2" by 64ths.
These are jobber length drills with straight shanks. Jobber length drills are normal length drills.
The drill set comes in a metal index for storing the drills.
CENTER IT is a tool for drilling pipe and other round objects. The CENTER IT v-block is made specifically for use in a drill press. No clamping of the tube is necessary since the angled flats of the jig hold it centered. Holes will automatically be centered on the tube with no center-punching required. If tubing is too large to drill in a single operation this drill press v-block can simply be turned over. Especially for the metalworking enthusiast, the woodworking hobbyist, and even the professional automotive mechanic, CENTER It v-block makes speedy and precise work of drilling tasks. Its "hand vise" grip ridges allow no-clamp holding of round stock for sawing and cutting.
Re-Li-On cutting and tapping fluid is a non-ozone depleting product that is safe on aluminum and exotic alloys such as stainless steel, hastelloy, inconel and titanium. The engineered formula clings to the cutting tool and provides strong lubrication.
The SpillMaster is a great way to keep cutting fluid handy on your workbench. The included acid brush makes application easy.
This product contains the following items:

| | Description | Qty |
| --- | --- | --- |
| | Center Finder, Drill Press, P/N 2747 | 1 |
| | Center It V-Block, P/N 2186 | 1 |
| | Cutting Fluid, Re-Li-On, 16 Oz., P/N 3120 | 1 |
| | Drill Set, 29 Piece Jobber Length HSS, P/N 2828 | 1 |
| | SpillMaster Container, P/N 3896 | 1 |
| | Vise, 3" Drill Press Quick Slide, P/N 4141 | 1 |