What's New!
NAMES Is Coming!
The 25th annual exposition of the North American Model Engineering Society will be held April 26-27, 2014 at the Yack Arena, 3131 3rd Street, Wyandotte, Michigan. You and I call it NAMES Expo, and it's just south of Detroit. It's a great place to meet other model engineers. And, of course, to see us! We'll be there--and hopefully this year our sale merchandise will be too!
The Micro Mill Is Back--and Much Better, Thank You!
The X1 micro mill was a popular machine in hobbyists' garages, packing a lot of capability into a small footprint. All the vendors of the original micro mill have discontinued sales, however. Now there's a new LittleMachineShop.com HiTorque Micro Mill, a version of the SIEG SX1P. This isn't your father's micro mill.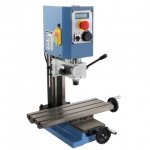 Like its bigger brethren, the LittleMachineShop.com HiTorque Micro Mill is the best in its class. It has more power, more torque, and a larger table than other mills of its size. It features a powerful 250W brushless spindle drive motor, which offers tremendous low-end torque, speeds from 100-5000 RPM, and no gears or belts to shift. (No gears also makes it the quietest in its class.) And at 15.7"x5.7", the mill table is huge!
The HiTorque Micro Mill is available in two models: one with a 2 Morse Taper (2MT) spindle, and one with an ER-16 spindle.
3rd Party Review
See what Frank Hoose of Mini-Lathe.com thinks of our solid column HiTorque Mini Mill in his review of the model 3960.
HiTorque Machines In Stock
We have these HiTorque machines in stock and ready for shipment.

The Deluxe HiTorque 7x12 Mini Lathe features digital readouts on the cross slide and compound rest. It has metal hand wheels instead of plastic and it has metal change gears instead of plastic. It incorporates the HiTorque 500W brushless DC drive.

The HiTorque 7x12 Mini Lathe has the most low speed torque of any mini lathe. And features like the cam-lock tailstock, full half-nuts, and apron gear shield make this lathe unique.

The HiTorque 8.5x16 Bench Lathe features a power cross feed--a unique feature in lathes of this size. The 1000W brushless spindle drive motor provides tremendous low-end torque and continuously variable speed from 100-2000 RPM in both directions.

The Model 3960 HiTorque Mini Mill features a solid column for increased rigidity and reduced chatter. This mini mill incorporates the same large X-Y table as our other HiTorque Mini Mill, along with an R8 spindle and 500W brushless DC drive.

The Model 3900 HiTorque Mini Mill with tilting column features a larger table, with more X- and Y-axis movement than any other mini mill. The R8 spindle accommodates the widest selection of tooling.
Each of these machines is the best in its class, with unique features not available elsewhere. There is finally a Mini Lathe and Mini Mill worthy of the LittleMachineShop.com brand.
Tormach Personal CNC Milling Machines
Tormach's PCNC mills represent a new approach to small and bench top CNC milling machines. Designed for real work, the machines have the strength, power, and accuracy needed to cut serious materials. We carry a full line of Tormach products, including the Tormach PCNC 770 and PCNC 1100 Series 3 milling machines. We have a PCNC 1100 in our showroom for demonstrations. Give us a call and make an appointment to see it cut metal.