Cutting Tools for Oscillating Engine Kit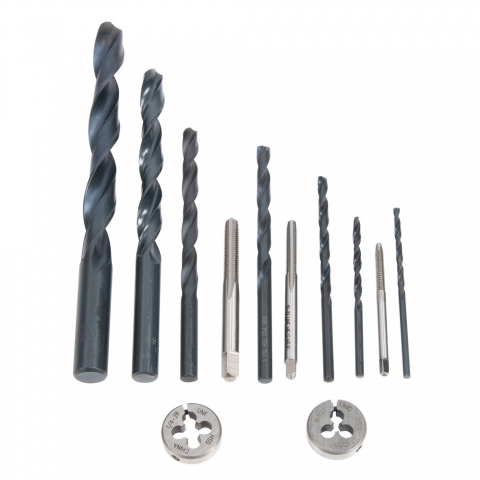 All the cutting tools for the Oscillating Engine Kit
Includes Drills, Taps and Dies
Teachers: Get one of these for every 2 or 3 machines.
All of the taps, dies and drills necessary to build the Oscillating Steam Engine Kit (part number 2594).
See the contents tab for the complete list of tooling in this kit.
This product contains the following items:

| | Description | Qty |
| --- | --- | --- |
| | Die, 1/4"-28 Thread, P/N 1171 | 1 |
| | Die, 6-32 Thread, P/N 2848 | 1 |
| | Drill, #21, Jobber Length, HSS, P/N 1140 | 1 |
| | Drill, #3, Jobber Length, HSS, P/N 1139 | 1 |
| | Drill, #36, Jobber Length, HSS, P/N 1141 | 1 |
| | Drill, 1/4", Jobber Length, HSS, P/N 1143 | 1 |
| | Drill, 1/8", Jobber Length, HSS, P/N 1142 | 1 |
| | Drill, 3/8", Jobber Length, HSS, P/N 1168 | 1 |
| | Drill, 31/64", Jobber Length, HSS, P/N 1169 | 1 |
| | Tap, 1/4"-28 Thread, Plug Style, P/N 1170 | 1 |
| | Tap, 10-32 Thread, Plug Style, P/N 3676 | 1 |
| | Tap, 6-32 Thread, Plug Style, P/N 2838 | 1 |