On Sale


Value Packs


New Products


All Products


Catalog


Store Location


Outlet Store
Machinist's Calculator




lmscnc.com/calc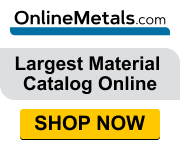 Outlet Store
In our outlet store we offer items that have been returned, have cosmetic blemishes ("scratch and dent"), have been refurbished, are missing a component, or for some other reason are not good enough to be sold as new--all at a greatly discounted price. Unless noted in the description, none of the items have been used, other than during testing and refurbishment. All items are sold "as-is"; there is no warranty. Aside from that, our normal return policy applies; if you don't like an item you purchase from us, return it within 30 days for credit.
All that said, machines that are described as refurbished carry the same limited warranty as the new machines we sell.
HiTorque Large Bench Mill

This mill came back with some electrical issues. All the electrical issues have been fixed and problematic components have been repaired or replaced. Some light cosmetic damage remains mostly from shipping back and forth across the country.

HiTorque Bench Mill

This Bench Mill was damaged in shipping and was returned to us through the shipper. The spindle was a little off kilter when it came back and we have replaced the entire spindle cartridge.

HiTorque 8.5x20 Bench Lathe, Deluxe

This Deluxe Bench Lathe was returned to us by the shipper as delivery was refused by the intended customer as there was noticeable damage to the crate upon delivery. There are no mechanical issues with the lathe after our inspection and everything appears to be in full working order. It did partially come loose from the crate during shipping and therefore there is some cosmetic damage including chiped paint, scratches, and a pretty bent rear splashguard.

Arbor, Drill Chuck 2MT Short to 33JT

We got some short arbors that were a little too short. We've modified them with a screw in the end so that they are essentially the same as an 1804.

Quick Change Tool Post, AXA

One dovetail is slightly oversized and not all tool holders fit. The other dovetail is fine. The oversized dovetail could probably be ground down as it's quite close to being on spec.

Quick Change Turning & Facing Tool Holder, AXA

The doevetail on this holder is cut a little wide. It still locks ok on an AXA post (as far as we could tell), but it's a little looser than it should be. Also has some minor scuffs and scratches.

Ball and radius turning tool

We imported these from a factory in India with the idea that it might be a hot new product, but then the factory went out of business and our line on them has dried up. They're made to mount on a Myford Super 7 lathe, but could easily be adapted to fit on the cross slide of other lathes. Uses a TNMG insert and our TPMB inserts might fit as a HSS compatible insert.

Tailstock Taper Turning Attachment

We imported these from a factory in India with the idea that it might be a hot new product, but then the factory went out of business and our line on them has dried up. They fit in a 2MT tailstock and work like a live center, but can be offset so that a taper can be cut in a workpiece.

Band Saw, Bench Top

Refurbished unit. The power switch and guide bearings have been replaced and is in "like new" condition.

Drill Press, 10" Bench Top, 12-Speed

Returned unit with some cosmetic damage including chipped paint, scratches, and small dents in the belt housing, but the machine appears to be in full working order after our inspection.

Boring Head Set, R8

This unit has a cracked case. Nothing else appears to be wrong with it.
More closeout products
Hide Thumbnails