Boring Head Set, 3MT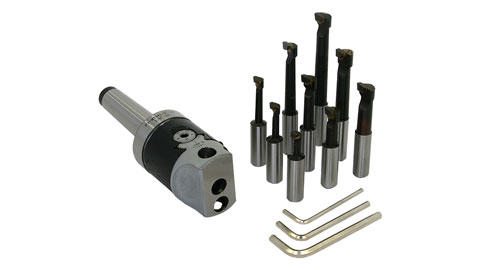 Includes boring head, 3MT shank, and 9-piece boring bar set
2" diameter boring head holds 1/2" shank boring bars
The boring head offsets up to 5/8", dial is graduated in 0.001"
Minimum bore diameter is 5/16"
Maximum bore depth is 3"
The carbide tipped 9-piece boring bar set includes three different length boring bars each for minimum bores of 5/16", 7/16", and 9/16". The bore depth ranges from 3/4" to 3". The heat treated, alloy steel shanks are held to 0.000 to -0.0005" from the nominal diameter.
The drawbar thread is 3/8"-16.
Note: If you have a Grizzly G8689 or Micro-Mark 82573 mini mills with the 3 Morse taper spindle, that has a metric threaded drawbar, you will need our 3/8"-16 threaded drawbar P/N 1637 to use this boring head.
Compatibility
This product works with mills with a 3 Morse taper spindle taper including:
Bolton XJ-9510 Mill/Drill
Clarke CMD300 Milling Drilling Machine
Grizzly G8689 Mini Milling Machine
Hare & Forbes HM-10 Mill/Drill
Princess Auto 8507667 Powerfist Mini Mill
SIEG X2-MT3 Mini Mill
Micro-Mark 82573 MicroLux Milling Machine
Grizzly G0516 Lathe Mill Combo
SIEG M6 Multi-purpose Machine