Analog Conversion Kit, Bench Lathe Compound Rest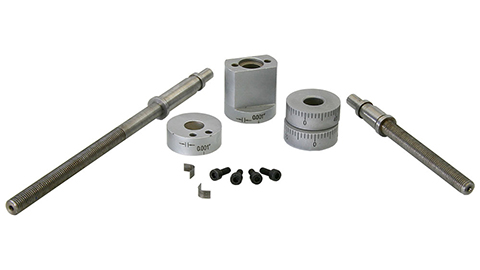 Replaces the compound rest DRO with 0.001" graduated dials
Part Number: 4156
Weight: 0.98 lb
Price: $42.95

This product is currently backordered.
Estimated availability:
22-Aug-2023
What is "estimated availability"?
Click this button if you want to receive an email notification when this product becomes available.
This kit contains the parts required to replace the DRO readout with a dial on the bench lathe compound rest.
Use this kit to convert a lathe with the black DROs.
This product contains the following items:

| | Description | Qty |
| --- | --- | --- |
| | Cap Screw, M4x12, Socket Head, P/N 1530 | 2 |
| | Feed Screw, Compound Rest, Bench Lathe 20 TPI, P/N 4411 | 1 |
| | Graduated Scale, Compound Rest, Bench Lathe, P/N 5292 | 1 |
| | Key, 3x20 mm, P/N 4408 | 1 |
| | Nut, Feed Screw Compound, P/N 4397 | 1 |
| | Nut, M8 Nylon Insert Lock, P/N 2516 | 1 |
| | Oil Fitting, 6 mm, P/N 1655 | 1 |
| | Scale Ring Sleeve, Compound Rest, P/N 5293 | 1 |
| | Spring, Adjustable Dial, P/N 1773 | 1 |
| | Support, Compound Rest Feed Screw, P/N 5291 | 1 |
| | Three Ball Handle, P/N 4410 | 1 |
| | Washer, Compound Rest Handle Assembly, P/N 5598 | 1 |