Upgrade Kit, Mini Mill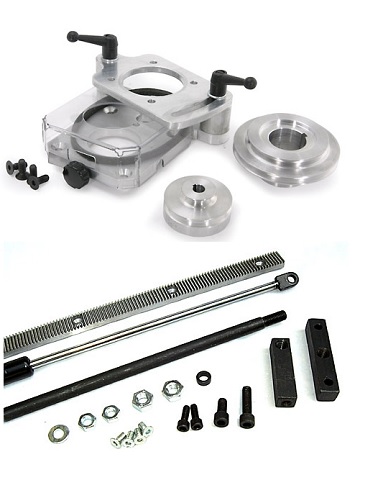 Includes 2258 Air Spring Kit and 2560 Mini Mill Belt Drive Kit
Much quieter operation
Spindle speed up to 4300 RPM
Allows travel to the top of the column while providing better support for the mill head
No more broken drive gears
Do not buy this milling machine upgrade kit if you have a HiTorque Mini Mill. Most or all of these features are already included on the HiTorque mills.
This mini mill kit provides an easy-to-install alternative to the noisy and fragile factory-installed gears that drive the spindle on the machine. The kit includes one belt. Change speeds without any tools. Simply remove the guard, loosen the lever locks and move the belt from one pair of pulleys to the other. Low speed range is 0-1700 RPM. High speed range is 0-4300 RPM. This belt drive fits the following mills:
Grizzly G0516 Lathe Mill Combo
Cummins 7877 Mini Mil
Grizzly G8689 Mini Milling Machine
Harbor Freight 44991 Central Machinery Mini Mill/Drill
Hare and Forbes HM-10 Mini Mill Drill
Homier 03947 Speedway Mini Mill
Micro-Mark 82573 MicroLux Milling Machine
The small pulley has a 9 mm bore with a 3 mm keyway. The large pulley has a 30 mm bore with a 5 mm keyway. If your shafts don't match these values, then this belt drive will not fit your mill.
Convert torsion spring mini mills to air spring. This mini mill kit provides all the parts required to change to a vertical air spring that mounts inside and above the column. With the air spring installed, you can move the mill head up until the top of the casting is almost flush with the top of the column. You can move it down until it almost contacts the adjustable Z-axis stop set in its lowest position. This air spring has about 35 pounds of force. This is not enough to totally support the head, but it is a heck of a lot more support than the torsion arm provides.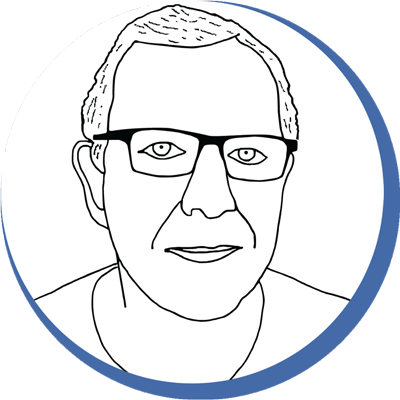 Chris' Tips
This kit comes with complete instructions for installation.Here are the installation instructions.Here is a review of the belt drive.Here's a photo of the belt drive installed on a mini mill.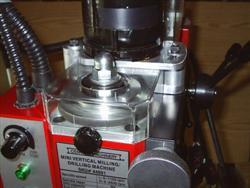 Here is another video that shows how easy it is to install the belt drive.
Compatibility
This product works with these LittleMachineShop.com products:
This product works with the following mills. (If your machine is not on this list, we cannot verify compatibility.)
Bolton XJ-9510 Mill/Drill
Clarke CMD300 Milling Drilling Machine
Grizzly G8689 Mini Milling Machine
Hare & Forbes HM-10 Mill/Drill
Princess Auto 8507667 Powerfist Mini Mill
SIEG X2-MT3 Mini Mill
Micro-Mark 82573 MicroLux Milling Machine
BusyBee CX605 Craftex Mini Mill
Cummins (Tools Now) 7877 Mini Mill
Eastwood 32498 Mini Mill
Harbor Freight 44991 Central Machinery Mill/Drill
Homier 03947 Speedway Mini Mill
Northern Tool 49657 KLUTCH Mini Mill
Penn Tool Co XJ-9510-1 Precise Mini Mill
SIEG X2-R8 Mini Mill
Travers Tools OT2213 OTMT Mini Mill
SIEG X2P Mini Mill
LittleMachineShop.com 4962 SIEG Mini Mill
SIEG X2D Mini Mill
SIEG X2L Mini Mill
WEN 33013 WEN Mini Mill
BusyBee CX705 Craftex Lathe Mill Combo
Grizzly G0516 Lathe Mill Combo
SIEG M6 Multi-purpose Machine