HiTorque Mini Mill, Solid Column with Tooling Package 4288
(Discontinued)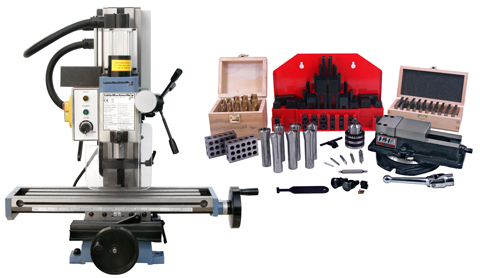 Most powerful mill in its class
Most low-speed torque in its class
No gears in spindle drive
Largest table and X-Y travel in its class
R8 spindle (Includes 1/2" drill chuck and arbor)
Part Number: 4288
(Discontinued)
Weight: 225 lb
Price: $1,165.95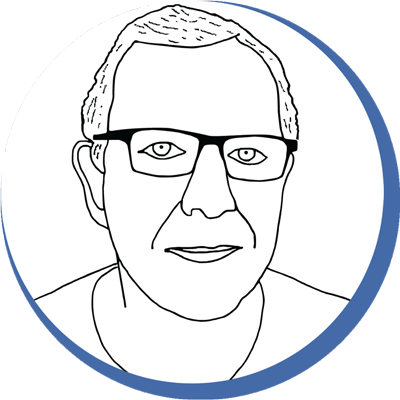 Chris' Tips
DISCONTINUED - This HiTorque Mini Mill has been replaced by the 3990 HiTorque Mini Mill, Solid Column with Air Spring.The solid column is much more rigid than the tilting column. Some people may feel that the tilting column is a feature, but I have used a mini mill for 10 years and never tilted the column on purpose.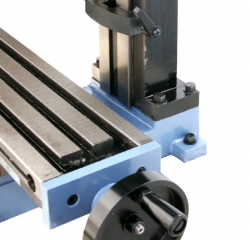 Let's compare the LittleMachineShop.com Solid Column HiTorque Mini Mill to mini mills with a tilting column. The tilting column on other folk's mini mills tilts 45 degrees from side to side. This has several advantages. First, it is possible to make some angled cuts. It's also easy to tram in the X-axis. One user (and only one) has described to me a cut that was impossible to make any way but using a tilting column. This mill has a solid column. While it is harder to tram in the X-axis because you must use shims, it is not as easy to knock it out of tram as the tilting column mini mill. The solid column has thicker walls than the tilting column, and a stiffer joint where it joins the base, so the column is significantly more rigid than the tilting column. LittleMachineShop.com no longer sells mills with a tilting column. That is an indication of how much better the solid column is.Here are data sheets for the machines that we sell.Here's what you need to convert the HiTorque Mini Mill to CNC. (But be sure you look at the CNC milling machines that we sell before you start).Here are the user's guides for our machines.T-slot cleaners are designed for Bridgeport mills. It takes a few seconds on a grinder to reduce the size of the "T" to fit the slots on the mini mill.
500 Watt output spindle motor
Large X-Y table
R8 Spindle for wide tool availability
Dovetail column maintains head alignment at any height
Fine feed on Z-axis for precise control
Three radial handles for drilling
E-stop safety power switch
Adjustable Z-axis stop for repetitive drilling
Neoprene bellows protect horizontal ways
Adjustable gibs on all dovetail ways
Includes 1/2" drill chuck and arbor
Specifications

| | |
| --- | --- |
| End Milling Capacity | 0.6" (16 mm) |
| Face Milling Capacity | 1.2" (30 mm) |
| Drilling Capacity | 0.5" (13 mm) |
| Table Size | 18.1" x 4.7" (460 mm x 120 mm) |
| T-slots | 3 slots 0.47" (12.0 mm) wide |
| X-Axis Travel | 11.8" (300 mm) |
| Y-Axis Travel | 5.1" (130 mm) |
| Z-Axis Travel | 9.8" (250 mm) |
| Throat | 6.5" (165 mm) |
| X- and Y-Axis Feed Screws | 0.062" (1.59 mm) per rotation |
| Head Tilt | None |
| Positioning Accuracy | 0.0004" (0.010 mm) |
| Spindle Taper | R8 |
| Spindle Motor | 0.67 hp (500 Watts) |
| Spindle Speed | 100 - 2500 RPM |
| Power Requirements | 120 V 60 Hz 8 Amps |
| Machine Weight | 124 lbs (56 kg) |
| Overall Dimensions (W x D x H) | 23.2" x 19.7" x 29.1" (590 mm x 500 mm x 740 mm) |
| Crated Weight | 161 lbs (73 kg) |
| Crate Dimensions (W x D x H) | 23.6" x 23.6" x 29.9" (600 mm x 600 mm x 760 mm) |
| | |
| --- | --- |
| | 3990 HiTorque Mini Mill |
| | Front View |
| | Side View |
| | Control Box |
| | Solid Column Rigid Base |
| | Back View Solid Column Rigid Base |
| | The solid column on the left, tilting column on the right. The solid column has significantly thicker walls |
These machines ship by truck because they are simply too heavy and bulky for UPS Parcel Service. We normally ship truck orders a day or two after we receive the order. We add the following shipping cost to your order total:
| | | | |
| --- | --- | --- | --- |
| | Local | Far West | Other Continental US |
| Delivery to commercial address | $59 | $115 | $145 |
| Delivery to school or secured location | $79 | $155 | $175 |
| Liftgate, additional | Incl. | $20 | $20 |
| Delivery to freight terminal | $115 | $115 | $145 |
| Delivery to residential address (includes liftgate) | $79 | $175 | $195 |
"Local" refers to the parts of Southern California served by Hollywood Delivery Service.
"Far West" refers to ten western states: CA, OR, WA, AZ, NV, ID, UT, NM, CO, WY.
For delivery to Alaska, Hawaii, or Puerto Rico, we will check with several trucking companies to get the best price and then call for your approval before we ship.
We ship machines only to the US and Canada.
Canadian Shipments
Truck Freight shipping to Canada involves 3 distinct charges in addition to the product costs. (All amounts are in US Dollars, see the current mid-market exchange rate.)
Canadian Provincial Taxes (GST, PST, HST) depending on which province the shipment is going to. This will be 5% - 15% added to total sales amount depending on province (Canadian Sales Tax).
Hemisphere Customs Brokerage which handles all customs clearance requirements. This is a flat fee of $108 on any shipment.
Truck Freight from Southern California to destination in Canada. This is generally $300-$500 for residential liftgate delivery and appointment for single machine + tooling orders. Delivery to a terminal for pick-up or a commercial location with loading capabilities can reduce this cost substantially.
Quotes
To get a quotation that includes the shipping costs, add the products you want to the shopping cart and continue the checkout process until you reach the Payment page. On the Payment page, select the Quotation option. We will add the shipping costs and return a complete quotation to you within one business day.
Notes
The shipping charges shown above cover the cost of shipping the machine and anything else that you purchase with it, including a second (and third) machine, up to 700 pounds total.
A "commercial address" has a company name, a public entrance and posted hours of operation. If you do not have a forklift or loading dock at your place of business, you must add the liftgate fee. If you are running a business at your residence without a public entrance and posted company name and hours of operation it is considered a residence and a not commercial address.
Schools, colleges, universities, university hospitals, military bases, government facilities and other secured locations are charged a limited access fee that is included in the amounts in the chart above.
If you choose Terminal Pickup, and there is not a terminal within 30 miles, we will confirm with you that you still want Terminal Pickup.
Liftgate service is included in the residential delivery fee. The trucking company will call you to schedule the delivery.
We offer inside delivery which gets the machine inside one doorway or into your garage:
Local

Far West

Other Continental US

Inside Delivery
Gets the machine inside 1 threshold
Includes liftgate service
$50
$75
$75